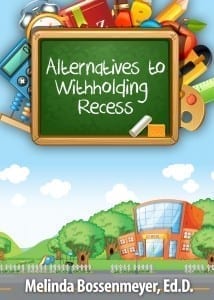 Given the value of recess in a student's physical and social development, and the need for periodic breaks from classroom instruction, using recess as punishment is inappropriate. Listed below are some alternatives to withholding recess.
ZERO-COST ALTERNATIVES
1. Sit by friends,  2. Watch a video, 3. Read outdoors, 4. Teach the class, 5. Have extra art time, 6. Extra music and reading time, 7. Homework coupon, 8. Coupon for prizes and privileges, 9. Enjoy class outdoors, 10. Play a computer game, 11. Read to a younger class, 12. Get a no homework pass, 13. Make deliveries to the office
14. Listen to music while working, 15. Play a favorite game or puzzle, 16. Earn play money for privileges, 17. Walk with a teacher during lunch
18. Be a helper in another classroom, 19. Eat lunch with a teacher or principal and 20. Dance to favorite music in the classroom.
For additional ideas fill out the form below for our FREE download Alternatives to Withholding Recess Part 1 & Part 2.