Peaceful Playgrounds award winning playground trainings are now available through our online courses and portal. For the past several years, online enrollments have been growing substantially faster than overall higher education enrollments. Online enrollments have continued to grow at rates far in excess of the total higher education student population. Over twenty percent of all U.S. higher education students were taking at least one online course in the fall of 2007.
Advantages of Online Courses
On demand and convenient.
Learning by doing through a student centered approach.
Conveniently available 24 hours a day 7 days a week.
Increases student interaction.
Students proceed through online courses based on engagement in content.
Access to content through active internet links.
Access to content that may not be available in their community.
Students proceed at their own pace.
Learner centered  online course.
Save travel time and associated costs (parking, fuel, vehicle maintenance).
Potentially lower costs for schools needing specialized training.
Steps to Access Courses
1. Purchase an online course access coupon for you or your entire school site.
2. You will receive an email with the course code and link to access the training.
3. Sign in and begin your online course at your own pace.
4. At the conclusion of the course you will receive your certification.
Works on Windows or Mac with Internet Explorer or Firefox
Playground Supervisor Course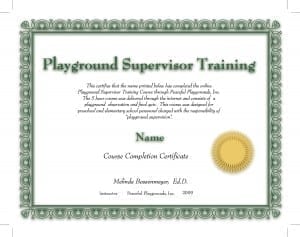 The Peaceful Playgrounds Online Playground Supervisor Training is designed to introduce administrators, teachers, substitute teachers, physical educators, parents, after school personnel, and playground supervisors to the responsibilities and techniques associated with keeping children safe on a playground.
This online course will serve as a certified professional development experience.
This course details playground surfacing, play structure safety, and playground supervision.
The course highlights legal supervision responsibilities and "how to keep kids safe".
Playground supervisor competency is an important factor to ensure good supervision. Adults do not automatically have the skills necessary to appropriately supervise students at play on a school playground. Well trained playground supervisors who know how to do the right things the right way at the right time are the best defense against litigation.
"My Para professionals just completed the training provided by Peaceful Playgrounds. We found the information comprehensive and helpful. The training helped to allow all the Para professionals to fully understand the way to supervise the playground and bring continuity to all three recess periods." – Cherie McComb, Principal
"The course provides facts and information that are valuable for all playground supervisors to keep in mind. The list of playground responsibilities and procedures for dealing with behavior problems are helpful and would be a good base of knowledge for anyone new to playground supervision." – Nancy Goettl, Playground Supervisor
Participants passing the exam at the end of the course will receive a Playground Supervisor Completion Certification.
Playground Supervisor Training Course – $29.95 – Order Now!
Special Deal! – Register your entire School – $399.00 – Order Now!
Peaceful Playgrounds Course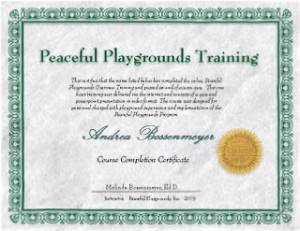 The role of the school playground is an increasingly important one. Gone are the days when it was seen merely as an area of fun and relaxation for our children.
Now we recognize it also as a place where pupils develop social skills, make friends, resolve conflicts and better their co-ordination skills.
Tired of playground hassles and headaches?
Would you like your playground to be peaceful? Sound impossible? It's not.
With a few proven strategies and procedures your playground can be a peaceful place for students and adults alike.
"This is a great program, user friendly, places risk in perspective, demonstrated areas for potential negligence, includes helpful forms that are easily downloadable. – Bianca Aniski, School Nurse
We share our research based strategies on what goes wrong on a typical school playground and solutions we put into place to solve those problems.
Topics covered include:
Teaching kids conflict resolution techniques.
Solving problems on playgrounds.
Game rules.
Equipment distribution and monitoring.
Staff role and responsibility for safe playgrounds.
Design considerations.
Legal issues surrounding playgrounds.
Participants passing the exam at the end of the course will receive a Playground Training Completion Certification.
Peaceful Playgrounds Online Workshop – $29.95 - Order Now!
Special Deal! – Register your entire School – $399.00 – Order Now!

Sample Course for School Administrators
Playground supervisor competency is an important factor to ensure good supervision. Well trained playground supervisors are the best defense against litigation. The Peaceful Playgrounds online learning program is a perfect solution to ensuring a safe playground.
A short sample of our Playground Supervisor training is available for review by school administrators. Sign up today and and we'll send you a link to begin your course. The complete course is available at a discounted price for schools and school districts.