Check Back Soon.

PEP grants were not funded for the 2015 year.  We will post updates and information as it becomes available.

Looking for an Award Winning PEP Grant Program?
The U.S. Department of Education's Office of Safe and Healthy Students manages the PEP grants and supports efforts to create safe schools, ensure the health and well-being of students, teach students good citizenship and character, respond to crises, and prevent drug and alcohol abuse. For additional information on the PEP grant program, visit http://www2.ed.gov/programs/whitephysed/index.html.
PEP – Physical Education for Progress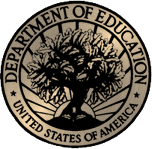 The Carol M. White Physical Education Program (PEP) provides grants to local educational agencies (LEAs) and community-based organizations (CBOs) to initiate, expand, and improve physical education for students in grades K-12. Grant recipients must implement programs that help students make progress toward meeting State physical education standards.
Everything you need to Succeed in applying for the 2013 PEP Grant!
We have compiled a list of documents and resources to assist you in applying for the 2013 PEP Grant.
Downloads include the 2013 PEP Grant Application, A Peaceful Playgrounds PEP Guide to assist you with application requirements and provide information on how Peaceful Playgrounds Programming meets the grant requirements.  The Peaceful Playgrounds PEP Guide includes a new competitive preference which asks applicants to address the 7 Design Filters.  Our guide does that for you.
For your convenience, we posted a Peaceful Playgrounds Programs Price Sheet to assist you with completing your PEP Budget.
A Key Considerations sheet is also posted to help you think through the requirement and commitment you're making.
The PECAT Assessment on our Programs is included for your review and completion.
A Standards Alignment Matrix on each Peaceful Playground Program will also help with meeting the PEP grant requirements of instructing students on meeting State Physical Education Standards.
So what are you waiting for?  Get started.  Let us know if we can assist you further.
Free Assistance in Writing your Grant Application!

The Peaceful Playgrounds Program is the perfect solution to ensure a successful government PEP playground grant application.  Sign up Now and use our experience to write a winning application for your district.
2013 PEP Grant Requirements
The 2013 PEP Grant Has 5 Priorities.  There are also required Performance Measures that you should consider in in deciding to apply for the grant.  We have identified download links for required documents within each section below.
I. Absolute Priority: Programs Designed to Create Quality Physical Education Programs
Under this priority, an applicant is required to develop, expand, or improve its physical education program and address its State's physical education standards by undertaking the following activities:
 instruction in healthy eating habits and good nutrition and
  physical fitness activities that must include at least one of the following:
(a) fitness education and assessment to help students understand, improve, or maintain their physical well-being;
(b) instruction in a variety of motor skills and physical activities designed to enhance the physical,mental, and social or emotional development of every student;
(c) development of, and instruction in, cognitive concepts about motor skills and physical fitness that support a lifelong healthy lifestyle;
(d) opportunities to develop positive social and cooperative skills through physical activity participation; or (e) opportunities for professional development for teachers of physical education to stay abreast of the latest research, issues, and trends in the field of physical education.
II. Competitive Preference Priority 1: Turning Around Persistently Lowest-Achieving Schools.
Under this priority we give competitive preference to projects that are designed to address the following priority area:
(a) Providing services to students enrolled in persistently lowest-achieving schools  A list of these Tier I and Tier II schools can be found on the Department's Web site at http://www2.ed.gov/programs/sif/index.html.
III. Competitive Preference Priority 2: Partnerships Between Applicants and Supporting Community Entities
We will give a competitive preference priority to an applicant that includes in its application an agreement
that details the participation of required partners, as defined in this notice. The agreement must include a description of:
(1) each partner's roles and responsibilities in the project;
(2) how each partner will contribute to the project, including any contribution to the local match;
(3) an assurance that the application was developed after timely and meaningful consultation between the required parties, as defined in this notice; and
(4) a commitment to work together to reach the desired goals and outcomes of the project. The partner agreement must be signed by the Authorized Representative of each of the required partners and by other partners as appropriate.
IV. Invitational Priority 1: Design Filters for Physical Activity Programs.
Background. In September 2012, as part of its Let's Move! initiative, the White House promoted the use of seven
"design filters" to serve as guidelines for both public and private sectors in creating physical activity programs. These are evidence-based program practices developed by experts from the public, private, and philanthropic sectors.
We believe that the
seven design filters
complement the priorities and requirements in this notice. Additional information about the seven design filters is available at:
http://ahealthieramerica.org/sites/all/themes/pha/files/PHA_Policy_Brief_and_Design_Filters.pdf
This priority is: Projects that propose to align their programs with the following design filters. Programs should:
1. Strive for universal access;
2. Include a range of age appropriate activities;
3. Aim to reach the recommended guidelines on dosage and duration;
4. Be engaging and fun for kids;
5. Be led by well-trained coaches and mentors;
6. Track progress, both individually and for the group; and
7. Provide consistent motivation and incentives.
Link to a copy of the Framework for Action: Design Filters to download
V. Invitational Priority 2: Turning Around Priority Schools.
This priority is: Projects that provide services to students enrolled in priority schools (as defined in this notice).
Requirements:
The following requirements, which are from the notice of final priorities, requirements, and definitions published in the Federal Register on June 18, 2010 (75 FR 34892), apply to this competition:
Requirement 1—-Align Project Goals with Identified Needs Using the School Health Index (SHI)
Requirement 2–Nutrition- and Physical Activity-Related Policies.
Requirement 3–Linkage with Local Wellness Policies.
Requirement 4–Linkages with Federal, State, and Local Initiatives.
Requirement 5–Updates to Physical Education and Nutrition Instruction Curricula.
To enhance their physical education or nutrition education curricula are required to use the Physical Education Curriculum Analysis Tool (PECAT) and submit their overall PECAT scorecard, and the curriculum
Also those applicants that plan to use grant-related funds, including Federal and non-Federal matching funds to create, update, or enhance their nutrition instruction in health education must complete the healthy eating module of the Health Education Curriculum Analysis Tool (HECAT).   Applicants must use the curriculum improvement plan from the HECAT to identify curricular changes to be addressed during the funding period. Applicants must also describe how the HECAT assessment would be used to guide nutrition instruction curricular changes.improvement plan from PECAT.
Requirement 6–Equipment Purchases.
Requirement 7–Increasing Transparency and Accountability.

Performance Measures:
The Secretary has established the following key performance measures for collecting data to use in assessing the effectiveness of PEP:
(a) The percentage of students served by the grant who engage in 60 minutes of daily physical activity measured by using pedometers for students in grades K-12 and an additional 3-Day Physical Activity Recall (3DPAR) instrument to collect data on students in grades 5-12.
(b) The percentage of students served by the grant who meet the standard of a healthy fitness zone as established by the assessment for the Presidential Youth Fitness Program (PYFP) in at least five of the six fitness areas of that assessment.
(c) The percentage of students served by the grant who consume fruit two or more times per day and vegetables three or more times per day as measured in programs serving high school students using the nutrition-related questions from the Youth Risk Behavior Survey and in programs serving elementary and middle school students using an appropriate assessment tool for their populations.
Estimated Range of Awards: $100,000-$750,000.
Estimated Average Size of Awards: $375,000.
Estimated Number of Awards: 95.
Submission Dates and Times:
Applications Available: February 26, 2013.
Deadline for Transmittal of Applications: April 12, 2013.
Applications for grants under this program must be submitted electronically using the Grants.gov
Need assistance with writing your PEP Grant?  We CAN HELP!  PEP Grant Writing Assistance Information.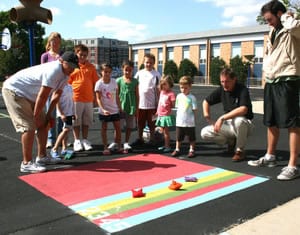 As part of a two-year Carol A. White federal grant for improving physical fitness for students in grades kindergarten t
hrough fifth, each of the eight District 112 elementary school playgrounds has been painted with colorful shapes and lines.
PEP Grant Writing – Working with Winners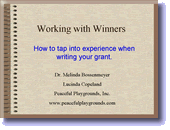 View our presentation from the Winning Grants Conference in South Carolina. Working with Winners: How to tap in on experience when writing your PEP Grant.
Below is a list of the 67 grantees:
| | |
| --- | --- |
| Alaska | |
| Alaska Gateway School District | $469,262 |
| Alabama | |
| Gadsden City Board of Education | $368,908 |
| Walker County Board of Education | $729,753 |
| Arkansas | |
| Mansfield School District 76 | $160,000 |
| Arizona | |
| San Carlos Unified School District | $578,221 |
| California | |
| California Health Collaborative | $644,351 |
| Youth Policy Institute | $750,000 |
| Mission View Public Charter School | $256,764 |
| Kids Moving, Inc. | $602,760 |
| Alta Vista Public Charter Inc. | $427,942 |
| Inner City Education Foundation (ICEF)Public Charter Schools | $845,138 |
| Colorado | |
| School District No. 1 in the City and County of Denver | $508,006 |
| Connecticut | |
| Capitol Region Education Council | $350,452 |
| Florida | |
| The School Board of Broward County, FL | $950,949 |
| Caridad Center, Inc. | $600,146 |
| Idaho | |
| Moscow School District No.281 | $452,654 |
| Illinois | |
| Matteson School District 162 | $242,470 |
| Woodstock Community Unit School District 200 | $550,190 |
| East St. Louis School District 189 | $635,985 |
| Indiana | |
| Evansville Vanderburgh School Corporation | $384,563 |
| Kansas | |
| Boys and Girls Clubs of Topeka | $272,480 |
| Kentucky | |
| Fleming County Schools | $343,709 |
| Danville Independent School District | $379,796 |
| Menifee County School District | $260,261 |
| Ashland Independent School District | $214,843 |
| Louisiana | |
| Madison-Tallulah Education Center | $573,202 |
| Massachusetts | |
| Somerville Public Schools | $613,554 |
| Brockton Public Schools | $645,264 |
| Maine | |
| Healthy Community Coalition | $727,772 |
| Michigan | |
| Kent Intermediate School District | $429,404 |
| Lansing School District | $715,726 |
| Minnesota | |
| Waubun-Ogema-White Earth Community Schools | $172,052 |
| Hendricks Public School | $420,408 |
| Mississippi | |
| Simpson County School District | $496,618 |
| Montana | |
| Shepherd Public Schools | $351,802 |
| Hays Lodge ole School District 50 | $390,684 |
| North Dakota | |
| Divide County #1 School District | $690,869 |
| Nebraska | |
| Educational Service Unit #1 | $494,356 |
| Educational Service Unit #6 | $760,419 |
| New Mexico | |
| The Grant Experts, dba: Capacity Builders, Inc. | $718,465 |
| New York | |
| Holley Central School District | $441,840 |
| LeRoy Central School | $445,037 |
| St. Christophers Incorporated | $577,861 |
| Clyde-Savannah Central School District | $358,468 |
| I Challenge Myself, Inc. | $219,622 |
| Olean City School District | $409,217 |
| Lewiston-Porter Central School District | $701,703 |
| Ohio | |
| Lake County General Health District | $746,436 |
| Oklahoma | |
| Putnam City School District 1-001, Oklahoma County | $734,222 |
| Schools for Healthy Lifestyles, Inc. | $934,767 |
| Keys Public Schools | $607,828 |
| Checotah Public Schools | $450,716 |
| Pennsylvania | |
| Keystone Central School District | $280,570 |
| Archway Charter School of Chester, Inc. | $750,010 |
| The School District of the City of Erie, PA | $582,627 |
| Shamokin Area School District | $537,167 |
| South Dakota | |
| DIAL/MCEC | $429,680 |
| Tennessee | |
| Boys & Girls Clubs of the Tennessee Valley | $509,412 |
| Texas | |
| Harlandale Independent School District | $750,000 |
| Utah | |
| Salt Lake City School District | $529,811 |
| Wisconsin | |
| Unity School District | $375,151 |
| West Allis-West Milwaukee School District | $857,413 |
| Lake Geneva Jt#1 Elementary School District | $281,641 |
| Pittsville School District | $442,525 |
| Riverdale School District | $391,699 |
| Highland School District | $359,816 |
| Mukwonago Area School District | $446,041 |