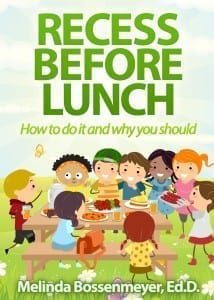 As you may know I'm a retired principal but I'd be the first to admit that changing the education system is a lot like turn a huge cruise ship in a small harbor. Possible but not probable and it requires lots of maneuvering.
However a few brave principals across the nation are doing just that and bringing a long standing school tradition to an end. They are advocating recess before lunch.
And in doing so they are getting some amazing results. Kids eat more, waste less food, return to class calmer, behave better and as a result, instruction time is increased.
You might be wondering, "So exactly what is recess before lunch?" Basically it is where kids go to recess first and eat lunch later.
Recess Before Lunch Podcast


Benefits of Recess before Lunch Programs
I've prepared a short PowerPoint presentation to go along with this article and in that presentation I talk about the benefits of Recess before Lunch.
Let's begin with a few of the benefits of Recess before Lunch:
Improved cafeteria behavior.
Calmer more relax students in the cafeteria.
Students retuning to classroom calmer and ready to learn.
Drink more milk.
Students throw away less food.
Students eat more.
Fewer discipline problems.
Fewer visits to the school nurse.
Recess Placement Prior to Lunch in Elementary Schools: What Are the Barriers?
What schools are saying about Recess before Lunch Programs
Let's hear what a couple of principals have to say about recess before lunch. Principal Peters from McKinley Elementary School in Tacoma, Washington observed the following results from the recess before lunch program.
"By having recess before lunch, our students make better choices about what they eat. They eat more and always drink their fluids. It's easier to settle them down into the classroom after lunch." (Action for Healthy Kids
)
Another principal from Highland Park Elementary School reported, "we have noticed less time wasted in transition. Students are calmer, more settled, and ready to begin learning when they come off the playground."
Teachers too were asked about how Recess before Lunch was working in their schools.
"We have more uninterrupted teaching time," one teacher commented. "There are fewer fights on the playground and we're seeing better classroom behavior." Teachers acknowledged that they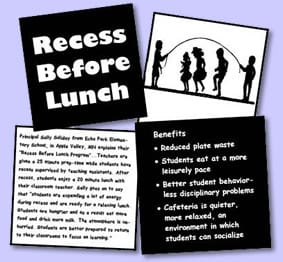 had observed that students are not rushing through lunch to get to recess anymore.
Kids seemed the most pleased about the new schedule. "I get to soccer sooner; we get to play before lunch now." one child noted, "If you eat before recess you get a tummy ache." And just another stated, "It takes off all your energy so you aren't moving around so much at lunch."
Principals also voiced their need for hard research before implementing a new program like Recess before Lunch. Here are some research results from studies that identified some of the benefits. Children ate 24% more food, wasted 30% less food, consumed 8% more calories, consumed 35% more calcium and 13% more vitamin A.
Research findings on Recess before Lunch Programs
Another research study called the School Health Policies and Programs Study documented that less than 5% of elementary schools scheduled recess before lunch prior to 2001. However, recent research shows the number of schools implementing Recess before Lunch is rapidly growing.
Yet another research study was conducted by the Montana Team Nutrition Program. Their research indicated: A decrease in discipline problems on the playground, in the cafeteria, and in the classroom. Children returned to class more settled, calmer, and ready to learn. Focus groups talking with children found that children preferred playing prior to eating lunch.
Montana Team Nutrition Program – Essential Factors for Success in RBL
You're probably thinking "How do I get started?" First, let's explore the barriers you'll face in changing a long standing education tradition.
Administrator's voiced the following concerns: It's difficult to get people to buy into a change like this. They'll have to be convinced that it's better for students.
Generally administrators said, "I know that kids eat quickly and waste a lot of food in trying to hurry out to the playground to play. It's important to me that they have enough time to eat without rushing. It's inviting to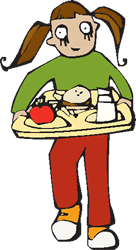 think that a change like this could improve overall lunchroom behavior.
Teachers voiced concerns about how this would affect the focus on testing. And the schedule is already set for academic subjects, and "I'm not convinced that the change is a good idea." They also had a concern over the ability of the lunch servers to serve so many children at once.
However, teachers liked the idea that fewer playground issues would spill over into the classroom and they saw that kids would be more motivated to get their work done to go out to recess right away.
The greatest resistance came from parents. They saw the new system as breaking with tradition. One voiced "Lunch before recess worked for me when I was little, I didn't know there was a problem. Are we fixing something that isn't broken?" Another piped in, "Shouldn't schools be focusing on data and academic outcomes instead of recess considerations."
Parents also identified some important barriers. How will the kids wash their hands before they eat lunch? What will they do with their coats? And one observed, "my child sometimes misses breakfast this will be too long for him to wait to eat."
You may now be realizing, "O.K. this may not be as easy as I thought. Perhaps I need to think about this some more."
Steps to implementing a Recess before Lunch Program
The next section of this article will provide you with some online resources to consider in making your decision and also some suggested steps to follow in implementing a Recess before Lunch Program.
Step 1- Educate yourself on Recess before Lunch Programs.
Download resources from our website. I have included numerous resources for you to consider. Two of my favorites are the Recess before Lunch PowerPoint Presentation from the National School Nurses Association conference called, Recess before Lunch: It Does Make a Difference? One of the most helpful resources on the topic was put together by the Montana Team Nutrition Network called Recess before Lunch: A Guide to Success
. It's truly top notch.
Step 2 – Educate teachers
Plan to include Recess before Lunch as a staff meeting discussion item. Pass out materials and show PowerPoint presentation from the Guide to Success mentioned on the previous step. They have a section of the guide book devoted to materials for a staff meeting presentation.
Step 3 – Educate parents
Why not send home an article on Recess before Lunch in the school newsletter? Or a parent letter devoted to the topic asking for feedback. Finally, why not sprinkle the benefits of Recess before Lunch programs in the weekly lunch menus that go home with children?
Step 4 – Educate students
Explain new procedures for Recess before Lunch. Introduce procedures of hand washing and consider disposable hand wipes, provide access to sanitizer dispenser or schedule to provide time for hand washing.
Step 5 – Plan for new recess and lunch schedule
Meet with all involved including: playground supervisors, lunch monitors, food service workers, custodians, teachers and discuss the effects of the new change. Be flexible and realize that the initial schedule may need revision.
Give it time to work. Change takes time…
Principal Rob Bergan and the teachers, staff, and students of Oak Valley Elementary School  in Buellton, CA may face a few more obstacles along the way, but we think they are headed in the right direction.  He adds, "There's less wasted food and less trash on the playground. Kids are eating more because they have time to eat. They return to class calmer and ready to learn. Change isn't easy, but this change is worth it."
For additional resources on Recess before Lunch programs visit Recess before Lunch: A Guide to Success
, at the Montana Team Nutrition Network. Recess Before Lunch Can Mean Happier, Healthier Kids
from Education World's Administrator Center includes ideas for making the change to recess before lunch.
Be sure to leave a comment with your thoughts and success stories on the Recess before Lunch Program at the Recess Doctor Facebook page.
Recess Before Lunch Presentations
Molly Stenberg RD and Katie Bark, RD, LN, SNS,
Montana Team Nutrition Program