In painting  playground markings the following supplies are necessary: 100 foot measuring tape, paint, playground chalk, snap line, a taut rope on a stake for marking the radius of circles, old cloth for spills, large sticks of chalk for detail work and layout prior to painting.
---
Paint for School Playground Markings
Color adds a great deal to  school playground markings, both aesthetically and functionally.
The paint colors may be selected on preference. It is recommended that the primary, kindergarten, and preschool playgrounds use primary colors to enhance color recognition.
A colorful school playground is inviting and fun! Use "Stripers" (parking lot) paint for streets and curbs. It is the most durable outdoors on asphalt. Use a well known local paint supplier. Stripers paint is available at Home Depot
 or Lowes
.
Painting Tip: Large areas like 4 square courts and multi-use circles do not require that you paint in the background of each circle or square.  This requires using a great deal of paint and does not add to play value only aesthetics.  You might consider painting in the background on smaller games and using colors to paint small squares to denote squares A, B, C and D.  This is a huge cost savings and still looks nice. (see photo)
Sweep, wash down and let the area to be painted dry completely prior to painting the designs. Use chalk and layout the entire playground before beginning painting. New asphalt should be allowed to cure for one month prior to painting.
Use a roller for applying paint to a large surface area.
Paint machines or brushes are both suitable when working with grids.
Do not use a top sealer, as this could contribute to slippage.
Our Playground Paint Machine is is available with 6 cans of white stripers spray paint and paint machine, for outlining all the game courts. We sell only white commercial contractors quality striping paint. Detail work is rolled on and we recommend 4 colors (red, blue, yellow, & green.) One gallon of each will be more than enough. Detail work is letters, numbers, shapes and feet.
It is important to use the correct type of paint so that it will wear properly in the outdoor environment. We RECOMMEND STRIPERS PAINT OR PAINT USED TO PAINT PARKING LOTS OR STREETS!  If you are having a hard time finding stripers paint then MASONRY  paint can also be used and mixed to the proper color.
---
Water-based Latex Paint For Painting Asphalt
Water-based latex paint can be specially formulated for asphalt areas and is available in many colors.  This is the fastest drying asphalt-appropriate paint and will be dry to the touch in less than three hours.
Be sure to sweep down the surface and then wash it down the day before painting. It is not necessary that you use a top coat or sealer. It can  sometimes create slippery surfaces depending on several factors so test a small area before using.
Most Popular Playground Games
4 square
Longball
Basketball
Around the World
Tetherball
Multi-use Circle
Wallball
Alphabet Track
Running Track-Painted Line
KDG- Tricycle Track
Prisoner Court (VB)
Skipping Track
US Map
Beanbag Toss
Turf Area Games
Large areas of turf are very attractive, offer a soft surface, and are most desirable for playing many games. When using both the grass and blacktop areas you spread out distribution of children for better space utilization.
For lines in the grass of a permanent nature, mark the courts with a grass killer type product. Refer to your local school policy for guidelines appropriate use and safety around children.
Most states have regulations as to what chemicals can be used around children. Therefore districts typically supervise any chemical that is put on grass or elsewhere on school grounds. Your grounds department or gardening crew typically have a chemical that they use to burn the lines in.
We recommend you check with the people who mark your football or baseball fields at the local high school. They will most likely have an approved product for marking in the lines.
A chemical burn really means a chemical that kills the grass on the 2″ line. This may in fact be a commercial weed killer. Be certain to check what products are regulated by your state.
Regardless of the safety assurances, it is highly suggested that children stay off the grassy areas at least 48 hours after the grass is treated. A line marking cart is available at most high schools or district facilities departments.
Supplies for Marking Your Playground

Playground Chalk
Rope
Stake(s)
Old Rags
Stripers Paint
Paint Stir
Chalk Snap Line
Paint Roller
Paint Brush
100 ft. Measuring Tape
25 ft. Measuring Tape
The Peaceful Playgrounds stencil set is included in our Program Kit. The complete set of 41 stencils includes:
Letter Set (A – Z)
Number Set (0 – 9)
Shape Set (Circle, Square, Rectangle, Triangle)
Feet Grid (1 Piece with 2 feet)
---
U.S. Map Stencil
---
Map Stencil Layout
Locate a section of the asphalt/concrete which is about 27 feet wide by 16 feet high.
Make sure the surface is clean. Sweep and wash if needed.
Unroll stencil sections 1 & 2. Start laying out sections 1 & 2 approximately 15 feet below the top of your cleared area. This will allow you room for Alaska.
Anchor the stencil with masking tape to keep the wind from blowing it around. (Hint: Don't lay out map stencils on a windy day!)
Unroll stencil section 2 below and next to section 1.  Lay out the stencils in order 1-6. Be sure the stamped edges of the sections are aligned and the adjacent edges are close together.
Unroll the rest of the sections in order, so that the final layout looks like the illustration.
Note that there are TWO versions of Alaska off the west coast. The large is done in the same scale as the rest of the states. . . Alaska is enormous. The smaller version is included for grounds which do not have enough room to paint the full size Alaska. Tape together the sections of the Alaska you wish to use. Cut Alaska out and move it above Washington as on the Illustration. Also, move the Hawaiian Islands as shown.
Chalk the holes with white school chalk, or paint with spray paint.
Remove the stencil.
Connect the dots.
Paint the states
---
 Painting Tip
---
QUESTION: How do I paint the white line between the states? ANSWER:  Painting the state lines in white is a job for a skilled painter.  It will also double the amount of painting time.  Put simply it is an individual choice.  We see it as nice but not necessary.
---
---
 
Painting the Map
1. Use 100% acrylic  paint (stripers paint) or a masonry paint, about 1/2 gallon of each color. If you are using the full size Alaska, you may want to conserve paint by only painting the outline.
2. Pick out 4-5 colors of your choice. A useful idea is to give each team of helpers a color and a copy of the color map so they can go to each of their states and paint and don't have to ask "What's next?"
4. Helpful items: sponge brushes for the borders, regular bristle brushes to paint states, coffee cans with water to wash brushes, rags, knee pads.
World Map Stencil
Size 20 X 36 feet.
Roosevelt Elementary School Kearny, NJ



---
Tell the Community
Don't forget to prepare a Press Release f
or the community!
Need some additional information? Take a look at these Resources or try our Feedback form!
Program Grant Writing Template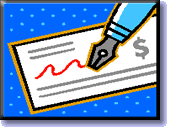 Download a copy of our Program Grant Writing
Template and get a head start on writing a successful proposal for implementing the Peaceful Playgrounds Program in your own school.
 – 
41kb

 – 
32kb
 –
37kb

 – 
27kb
Implementation Guidebook
This guidebook is meant to support you in your implementation process. Careful monitoring and research conducted on the Peaceful Playgrounds program indicates proper implementation is the key factor in accomplishing the outcomes of the program.
 – 
548kb
Playground Implementation Forms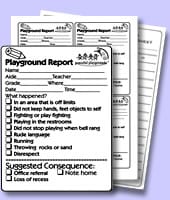 These forms will assist you in organizing and reporting on your playground activity.
This document includes Pad of 4 ready to print "Playground Report" forms and a Peaceful Playgrounds "Equipment Checkout Sheet."
– 
253kb
For more information on playground safety, contact The Consumer Product Safety Commission  at (800) 638- 2772 or www.cpsc.gov
. You can view the "Handbook for Playground Safety" (pdf) and the "Public Playground Safety Checklist" or get a free copy by writing to CPSC, Washington, DC 20207.