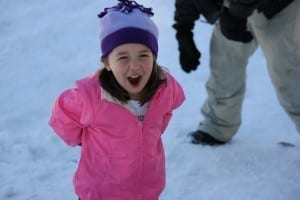 Indoor or Outdoor Recess?
When the weather outside is frightful school recess on the playground may not be delightful.  Just ask any playground supervisor.
Outdoor recess however, is a reality and daily decisions about "how cold is too cold" is something site principals, teachers and day care directors will be making during the winter months.  Snow, wind and icy conditions make deciding when to let kids go out and play a difficult decision.
Video from Active Kids Club
Administrators make the call.
According to the Department of Education, there isn't a national  standard for keeping kids indoors for school recess.  Consequently site principals often make this decision based on local situations.[1]
In Southern CA where I worked at a principal, cold is rarely, (if ever) an issue.  Generally, students could go outside nearly every day except for when it rains.   But in Northern California at Tahoe Truckee Unified School District, they face snow storms and icy conditions frequently like many other mountain areas across the nation. So a temperature standard would not make sense for both these areas even though they are within the same state.
Principals generally take into account precipitation, wind chill and other weather conditions in making an indoor/outdoor decision.  Tim Mc Avoy of Utica Community Schools in Michigan  put it best, "the bottom line is student safety.  It's not a decision that you can paint with a broad brush."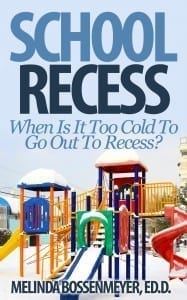 When making the decision to go outside for recess school officials need to consider many factors and one of the most influential is the wind chill factor that drives many decisions.  Temperature is another factor that in some cases generates an end to the discussion because in some places when the thermometer hits a certain number there is a district policy that takes over.  This is typically affected by local weather conditions.  For example, in Southern CA children typically do not bring gloves, layered clothing, hats etc to school to wear at recess.  A cold day below 50 would probably generate a long hard look at "sending children outdoors" basically because the temperature rarely drops that low and because children do not come to schools with warm snow type coats and hats.
On the other hand, in MN many schools report sending children out doors until the temperature reaches 32 degrees because parents send children expecting them to go outside at recess and dress kids warmly in the winter.  Minnesota children generally arrive at school prepared for cold weather and most dress appropriately.
Tips for teachers to beat the cold and keep kids safe.
Plan outdoor time for the warmest part of the day. You may decide to skip morning recess but add in an afternoon one as the temperature warms up.      Continue article……..
CDC's Tips for when it's cold outside.
Related Resources